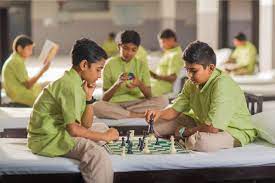 Letting your child study in one of the top CBSE residential schools in Coimbatore can help them better focus on their academics. At the same time, it increases their chances at attaining a brighter future with a great career while being a good and responsible citizen!
As you start searching for these schools, you might be surprised with the number of options available. Here are some suggestions if you are looking for the right CBSE school in Coimbatore with a hostel:
Shree Sarasswathi Vidhyaah Mandheer
SSVM is one of the best CBSE residential schools in Coimbatore. The co-ed day cum boarding school was established in 1998 and offers up to Class 12 education. It aims to provide exceptional education in a diverse international and Indian community. Taking inspiration from the Indian environment and inclusive Indian tradition, SSVM develops ethical, eloquent, and visionary learners who can attain their full potential in life and leadership. Beyond academic results, the school emphasises a rich multi-sports culture to help young learners develop critical thinking, communication, analytical, critical, and problem-solving skills.